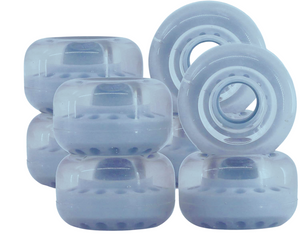 80A Indoor/Outdoor | 2.44" (62 MM) | Light Blue Wheels Set | FREE SHIPPING
Regular price $29.95 Sale
Free shipping within the USA (HI & AK calculated shipping)

size: 2.44 x 1.5" / 62x38 mm

80A Indoor/Outdoor wheels

One set consists of 4 wheels 

Rounded wheel for rhythmic skating

2 sets are necessary to replace all the wheels on a pair of skates
The BTFL replacement wheel Set comes in the color combination transparent/light blue and is the replacement wheel for our model Scarlett Pro. However, they are suitable for any roller skate.
DURABLE FOR ENDLESS USE - The BTFL roller skate wheels' durable processed urethane gives you long-lasting grip from the sidewalk to the pavement.
ENGINEERED TO AN IDEAL RIDE - These outdoor recreation skate wheels reduce friction, and they improve speed on various types of outdoor surfaces. These quad rollerskate wheels are perfect work for recreational outdoor skating.
SMOOTH RIDE FOR OPTIMAL SKATING - These outdoor skating wheels roll smoothly to help improve the comfort of your ride no matter the outdoor surface you skate on.
INCREDIBLY RESPONSIVE TO YOU - The 38mm x 62mm outdoor skate wheel has a urethane hub that makes for a comfortable ride and offers excellent handling for trail skating.
ABLE TO MATCH ANY SKATES - These skates wheels come with an 80A hardness and in two different colors to match any set of skates
For more information on our Return/ Exchange policy please refer to our FAQ page.