START YOUR SKATING JOURNEY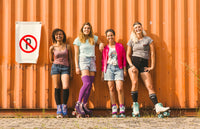 About BTFL
BTFL (BeauTiFul) started in 2015 initially as a German longboard brand designed by women with comfort in mind.
Soon, the company expanded their horizon and developed another passion for roller skates.
The team consists of young designers and experienced technical specialists.
In 2020, Pitkin Stearns International became the official distributor of the brand and offers customer service and daily shipping from Colorado to the United States of America and worldwide.
BTFL Roller Skates & Accessories
When shopping for quality roller skates and accessories, do not forget about comfort. Our BTFL (BeauTiFuL) Roller Skates are unisex skates that are meticulously designed with your ultimate comfort in mind to last for years. We offer affordable classic style high-top boot vintage roller skates with genuine handpicked suede in a variety of colors, and Retro Sneaker Skates with many styles to choose from. With our wide range of Quad Roller skates, we are sure to have something that will suit your style. Whether you are a beginner skater or a seasoned one, you are sure to love our skates. Get yourself a pair of our BTFL roller skates today and let the good times roll. Free shipping on all accessories orders within the USA.
I had my first skate in the BTFL Skates and I was astonished! I have tried countless skate lines and I am simply speechless. I am looking forward to skating in these for a longtime! I plan on wearing these now for the show purely because of how amazing the ride of these skates are.

Kelsey
WOW these shipped super fast, received in 2 day while others items could take close to a week or so. What a fantastic Skate! These guys are professionals the seller and the manufacturer. The shoes are very soft and easy for first time or intermediate skater. I shopped around extensively online and for the price and quality what an excellent buy!

Maria
The skates are wonderful. The girl to whom they were gifted is absolutely thrilled and giving the skates very good use. The skates are holding up beautifully, really is high quality. The customer service is also exceptional, I couldn't be any happier!

Edwin
These are by far the best skates I have purchased for my daughter as of yet. The cushion and suede are top notch. I almost felt jilted thinking these are better made than some shoes I own. She received these as a birthday present and loved how comfortable they were​. They fit great with wiggle room to spare.

Brad